Today's Plan:
Syllabus
Montages
Lighting on the Cheap
Lab Sign Up
Homework
Syllabus
Hi all, here's my idea for the calendar:
Week 5, work on Kalman (no class Monday, Wednesday storyboard, Friday Adobe)
Week 6, work on Kalman (audio editing on Monday), watch Kalman Friday Feb 16th (and probably Monday the 19th)
Week 7, work on the Just One Thing project (research design, green screening)
Week 8, work on the Just One Thing project (shooting/editing the project)
Week 9, watch the Just One Thing project–draw straws (shooting editing, developing feedback materials, watching videos)
Week 10, spring break
Week 11, work on the instructional video project
Week 12, user test the instructional videos
Week 13, retest the instructional videos
Week 14, gather user data from the Just One Thing project
Week 15, reshoot the Just One Thing video
Week 16, reshoot the Just One Thing video
Exam week, watch the Just One thing videos
Montages
A short video for some inspiration.
Compress time: tell a story
Joke delivery (use of titling)
Compress time: training
Weave and juxtapose
Repetition of a common theme
Compress time: Geschalt [pieces left for an audience to unpack]
Expansive, Zoom out, collection of varied elements that add up, attempt to capture a totality
Abstract, rhythm of life, little details, guided meditation
Free association, cataloguing
Intellectual montage, ideas, theme, place odd things next to each other to force a connection
And here's a link with 8 tips for sequencing montages.
Lighting
Part of teaching this class for the first time is learning what I need to learn. I realize now that I should have thought a bit more about lighting options before I put together the syllabus. So, to be clear, none of the things below are required. But I thought I would share a few of the cost effective options I have discovered for improving the quality of lighting when filming with an iphone.
On the cheapest end of the scale are these kinds of rechargeable plug in lights. There are fancier versions of these. These are essentially flashlights–so I'm not sure if you can diffuse them.
Here's a quick video on how to make a screen to diffuse light.
I also looked up some articles on cheap lighting options.
UNC's Library Video Lab
From the library's home page, Services > Reserve Rooms and Equipment will bring you here.
I went over and inquired about the room today. Unfortunately, they don't have anyone who provides tutorials for the room. I took some pictures so you can see what is there: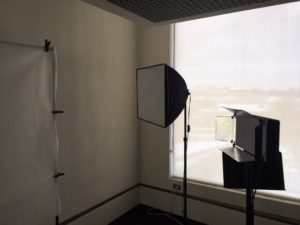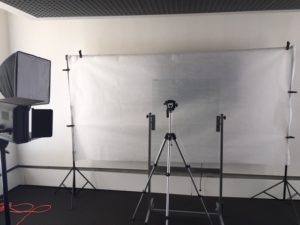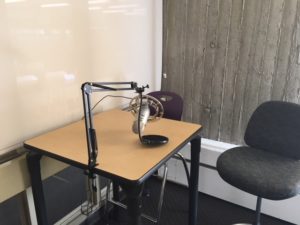 Homework
Our next meeting will be on Wednesday. I want to have you do some storyboarding in class. So I'll ask you to have an outline/script prepared by then. Take the weekend and do some writing.